Opportunities for
Clinical Trial
Investigators
Natural killer cell-based immunotherapies, antibody cytokine fusion proteins and adenovirus mediated vaccines are key to future cancer treatments. Our investigational NK-92®-engineered cells, superagonist Anktiva, and human adenovirus platform have demonstrated wide therapeutic potential across multiple tumor types, and, in clinical studies, have proven to be well-tolerated, making them ideal for clinical trial investigations.
If you are a current clinical trial investigator, please contact us for information.
Accessibility Facilitated by Outpatient Delivery
Many of our investigational therapeutics are administered in an outpatient setting — hospitalization is not required. Because community-based healthcare delivery facilities are available to the vast majority of patients throughout the country, our treatments are potentially more accessible to patients than those based on autologous CAR-T technology, which can only be administered at designated medical centers that are certified to competently manage potentially life-threatening side effects. Use of our NK cells, in particular is further streamlined by the universality of our NK-92 cell platform that eliminates the need for harvesting patient T-cell for the individualized therapy required by other platforms.


Engineered to Boost Innate NK Potency
Our NK cell-based platform is suitable for incorporation of chimeric antigen receptors (CARs) and antibody receptors to create higher-potency therapies and allow precise targeting. Addition of these receptors augments NK cell killing capabilities against cancers and virus-infected cells. Our ability to bioengineer and tailor NK cells significantly enhances the potential of our NK cells to successfully treat disease.


Favorable preliminary safety profile
ImmunityBio's immunotherapy and cell therapy platforms have been well tolerated, with favorable preliminary safety profiles. Our investigational therapeutics are administered in the outpatient setting and have shown no dose-limiting toxicities in patients who have received therapy. While clinical trials with CAR-T cell therapy require hospitalization and some severe adverse events have been reported, including cytokine release syndrome, no such severe toxicities have been noted to date with ImmunityBio's natural killer cells.


Designed to Augment the Immune System
Unlike most standard cancer and infectious disease therapies that severely weaken or deplete the immune system, ImmunityBio's approach is designed to bolster and invigorate it. Our targeted NK cell immunotherapies act as an extension to the body's innate, fast-response immune system to outsmart disease and potentially eliminate cancerous or infected cells.


Readily Available
Our NK cells are available 'off-the-shelf', ready for delivery as a result of our cost-efficient and scalable manufacturing processes. We have manufactured more than three trillion cells and have multiple FDA-authorized IND applications. Our NK cells can be cryopreserved in long-term storage facilities for on-demand access from what we believe is the world's only Good Manufacturing Practices (GMP)-compliant NK cell-line bank, a proprietary asset of our company.


Thirty years ago, we isolated natural killer (NK) cells from an individual, and found these cells had much broader and higher cytotoxic activity than other NK cells. These remarkable cells were developed as the NK-92 cell line and became a key surrogate cell line used by researchers around the world to expand our understanding of NK cell function as well as the basis for our pioneering cell therapy platforms.
Advance Your Medical Research
NK cell-based immunotherapies are key to next-generation cancer treatments. Our NK-92®-engineered cells have demonstrated wide therapeutic potential across multiple tumor types and have preliminary safety indicating they may be well-tolerated, making them ideal for clinical trial investigations.
ImmunityBio is actively pursuing clinical studies of our NK cell therapeutics, Anktiva IL-15 superagonist, and hAd5 adenovirus platform across a range of oncology and infectious disease indications. Our comprehensive approach engages both innate and adaptive immunity through cellular and cellular-activating agents, thus bringing together a whole immune system response to patients' therapeutic needs. In contrast to other immune therapeutic approaches, our therapeutic agents work together to generate long-term immune memory—with a goal of a durable response to therapy. The frozen, off-the-shelf, blood bag format of our cellular therapies is designed to make therapy simpler, more accessible, and ready to use. These cellular therapies are being manufactured at scale for clinical studies and await investigators ready to take the next step in their patients' immunotherapy journey.
Our Off-the-Shelf, Genetically Engineered Natural Killer Cells
Antibody-mediated killing
haNK cells are natural killer cells engineered to incorporate a high-binding affinity receptor (CD16) that binds to an administered antibody, potentially enhancing its cancer cell-killing effect.
These antibody-targeted haNK cells directly bind to IgG1-type antibodies, such as avelumab, trastuzumab, cetuximab, and rituximab, to enhance the cancer-killing efficacy of these antibodies. They boost the available number of natural killer cells that can kill cancer cells through Antibody-Dependent Cellular Cytotoxicity (ADCC).
Antibody products are abundantly utilized to treat cancer and are estimated to generate over $100 billion in reported annual sales. A growing number of studies suggest that clinically meaningful responses to these antibody therapies correlate directly with the overall health of a patient's natural killer cell population, and whether they express the high-affinity variant of the CD16 receptor. Current literature estimates that only 10 to 15 percent of the eligible patient population carry high-affinity CD16 receptors.1. This suggests that our haNK product candidate may have significant market potential as a combination therapy for patients who do not carry high-affinity CD16 receptors (and, as a result, exhibit a poorer response to antibody therapies).
1. Jochems, C., Hodge, J. W., Fantini, M., Fujii, R., Morillon, Y. M., 2nd, Greiner, J. W., . . . Schlom, J. (2016). An NK cell line (haNK) expressing high levels of granzyme and engineered to express the high affinity CD16 allele. Oncotarget, 7(52), 86359-86373. doi:10.18632/oncotarget.13411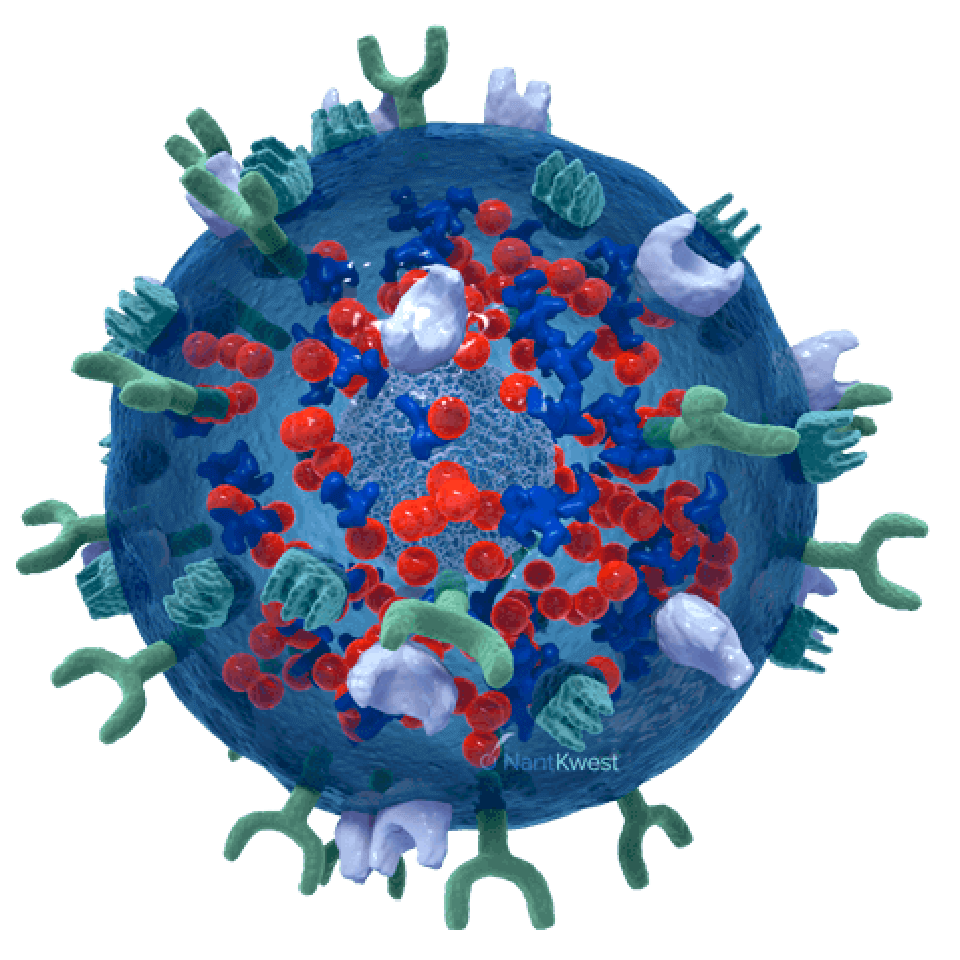 CAR-Directed and Antibody-Mediated Killing
Our newest and most promising platform for the development of therapeutic product candidates is an innovative, bioengineered combination of our haNK platform, together with a chimeric antigen receptor (CAR). The resulting product line candidates under this platform have the potential to kill in three ways: innate, antibody-mediated, and CAR-directed killing. These candidates also include one or more additional expression elements, such as functional cytokines, chemokines, and trafficking factors, making them some of the most versatile in our portfolio. These products are intended to be combined with commercially-available therapeutic antibodies to effectively target either two different epitopes of the same cancer-specific protein, or two different cancer-specific proteins.
Our novel, GMP-grade, cryopreserved, "off-the-shelf," bi-specific, PD-L1 t-haNK natural killer cell therapy candidate targets PD-L1 via a chimeric antigen receptor (CAR), and incorporates a high-binding affinity receptor (CD16) that binds to an administered antibody, potentially enhancing its cancer cell-killing effect.
PD-L1 t-haNK is not intended for use as a monotherapy; it will be the backbone of a combination regimen that includes a therapeutic monoclonal antibody, in addition to the IL-15 superagonist Anktiva (N-803), through our exclusive co-development agreement with ImmunityBio, Inc. We believe that the addition of this selective IL-15 cytokine therapy will complement the activity of our bispecific natural killer cell therapy through its stimulation of the patient's own resident population of natural killer and cytotoxic CD8 T-cells.
Cytokine-Enriched Natural Killer Cell Platform
Cytokine-induced memory-like natural killer cells (ceNK) are a unique set of immune cells that differentiate after a brief pre-activation with activating cytokines, and exhibit enhanced responses to cytokine re-stimulation. These cells have been isolated, and are characterized by their unique cell-surface marker profile and their highly desirable immune-memory feature. ceNK cells have pronounced immunomodulatory activity with potential applications for cancer and infectious diseases, making these cells a research focus for more than a decade. Our cytokine-enriched natural killer cell program is based on the ability to enrich and expand donor-sourced natural killer (NK) cells in a GMP facility to a clinically relevant scale. This allows for the production of a pure cytokine- activated and expanded NK cell population that possesses the unique phenotype we call ceNK cells. ImmunityBio has developed a unique portfolio of distinct ceNK cell products through the application of ImmunityBio's proprietary bioreactors (GMP-in-a-box), cytokines, and our proprietary methods.
Investigational Therapies for Difficult Diseases
34th Annual Piper Sandler Healthcare Conference Date: Tuesday, November 29, 2022Location: New York CityWebcast Link:...
read more
ImmunityBio is continuously pursuing new immunotherapies designed to attack disease by enhancing the patient's immune system, not weakening it.