Broad, Unparalleled Immunotherapy and Cell Therapy Platforms
The immune system is a collection of diverse immune cell families, each with a distinct role in protecting us from infections and diseases. Among these are the natural killer (NK) cells, the body's first line of defense. As part of the 'innate' immune response, NK cells have the ability to recognize and destroy abnormal (such as cancerous or virally-infected) cells and are uniquely powerful: They are always activated and ready to eliminate diseased cells without delay. We harness this power with our activated natural killer (aNK) platform based upon NK cells from a distinct cell line.
To further leverage the power of innate immune responses, we have developed a proprietary IL-15 superagonist, Anktiva® (N-803), which selectively activates NK cells and T effector cells, without activating regulatory T cells that may dampen responses. These platforms can be combined for clinical synergy in patients and such combination has produced complete responses in difficult-to-treat cancers, such as Merkel Cell Carcinoma (MCC), advanced pancreatic cancer, and advanced triple negative breast cancer (TNBC).
The majority of vaccines targeted to either cancer or infectious disease focus on the generation of antibody (humoral) responses mediated by B cells. ImmunityBio's next-generation vaccine platform, the human adenovirus 5 (hAd5) vector with advanced modifications, offers an opportunity for a broader immune response that includes vigorous T-cell mediated responses. Combination of the humoral and cell-mediated aspects of immune response result in immunological memory and a longer duration of protection than vaccines targeted at antibody production alone. Additional features of our hAd5 platform are its large payload capacity, that is, its ability to deliver multiple antigens to elicit an immune response and efficacy even in the presence of pre-existing hAd5 immunity. The advantage of the latter is that the vaccine platform can be used safely and effectively for multiple doses or different vaccine targets, if needed. This hAd5 platform is the foundation of our COVID-19 vaccines series. The first vaccine in this series has shown a high potential for efficacy in pre-clinical studies and has already been tested extensively in the clinic as a subcutaneous injectable formulation. Clinical trials using sublingual and oral formulations designed to maximize IgA production and mucosal immunity that will prevent transmission of the COVID-19 virus are about to commence. These formulations also should facilitate global distribution due to their thermal-stability. In addition to the clinical trials of the hAd5 COVID-19 vaccine, clinical trials of ImmunityBio's hAd5 cancer and HIV vaccines are currently underway.
Antibody Cytokine Fusion Proteins—Activated NK & T Cells
Anktiva® is our lead antibody cytokine fusion protein, a novel class of biopharmaceuticals created to amplify the therapeutic capability of cytokines and promote lymphocyte infiltration of the disease. Anktiva selectively activates NK and T cells through its proprietary IL-15 superagonist and is in late-stage clinical development. To date, Phase I thru III trials have been completed or are in progress for liquid and solid tumors in over 700 patients, along with an ongoing registrational Phase II / III non-muscle invasive bladder cancer (NMIBC) study. Anktiva has achieved both FDA Breakthrough Therapy and Fast Track designations for treatment of BCG-unresponsive patients with NMIBC CIS, and Fast Track designations for BCG-unresponsive papillary NMIBC and BC-naive CIS NMIBC. (These designations do not necessarily lead to faster development or regulatory review processes, or increase the likelihood of FDA approval.)
In addition, Anktiva is in late-stage clinical trials for multiple solid tumors, including lung and pancreatic cancer, TNBC, and glioblastoma, in combination with checkpoint inhibitors, chemotherapy, cell therapy, and other immune-stimulating agents. Based on data submitted with our Breakthrough Therapy designation application in September 2019, Anktiva achieved a complete response rate (at one of the clinically evaluable time points) of >70% in the ongoing registrational Phase II/III trial. In addition, our prioritized pipeline constructs include novel antibody cytokine fusion proteins N-820 (targeting CD20), N-809 (targeting PD-L1), N-812 (delivering IL-12 to necrotic tumor cells), and N-830 (delivering TGF-ß Trap to necrotic tumor cells).
Synthetic Immunomodulators—Activated Tumoricidal Macrophages
Synthetic immunomodulators target delivery of the chemotherapy agent to the tumor microenvironment, activate tumoricidal macrophages, and/or condition the tumor microenvironment toward tumor suppression.
Aldoxorubicin is an albumin-linked formulation of doxorubicin (an anthracycline chemotherapy approved for use in 14 indications, including breast cancer, Hodgkin lymphoma, and SCLC) and has completed multiple Phase II trials in sarcoma and glioblastoma. Its molecular structure, which includes an acid-labile albumin linker, provides favorable properties that distinguish it from doxorubicin. Phase II trials have demonstrated that aldoxorubicin crosses the blood-brain barrier and has an improved cardiotoxicity profile. This improved profile allows for significantly higher individual and cumulative doses of aldoxorubicin compared with doxorubicin. Given that aldoxorubicin has shown comparable or greater clinical responses to doxorubicin, we believe it could be less cardiotoxic than doxorubicin in many of its approved indications.
Vaccine Technologies—Generating Memory T Cells
Our vaccine technologies are developed to deliver tumor-associated antigens (TAAs) and neoepitopes (expressed only by cancer cells), including hAd5, our second-generation adenovirus. These are intended to induce T-cell memory through the activation of CD4+ and CD8+ T cells, along with antibody (humoral) responses. Our hAd5 technology has produced several product candidates that have been studied in Phase I and II clinical trials as potential vaccines for certain cancers; these candidates have shown an ability to overcome previous adenovirus immunity in cancer patients and preclinical models. The hAd5 technology has also been used with common TAAs to establish memory T cells in multiple clinical trials.
In addition, we are pursuing development of an hAd5 COVID-19 vaccine using S-Fusion and N-ETSD—our novel construct of COVID-19 spike (S) and nucleocapsid (N) proteins. This vaccine candidate generated CD4+ and CD8+ T cell-mediated immunity and neutralizing antibodies in animal models, and inhibition of viral replication in nasal and lung passages in a non-human primate challenge study. On October 13, 2020, the FDA authorized the Phase I, open-label, dose-finding study to examine the safety, reactogenicity, and immunogenicity of the low-dose (5×1010 VP) and intermediate-dose (1×1011 VP) in healthy volunteers. In early 2021, we received FDA authorization to study sublingual and oral formulations with a chosen subcutaneous dose.
A Powerful Investigational NK Cell Therapy Advancing to Multiple Phase II Trials
Combining our haNK platform with a Chimeric Antigen Receptor (CAR) to drive further tumor-targeted specificity
Off-the-Shelf, Genetically Engineered Natural Killer Cell Platform
Our NK platforms have demonstrated the ability to induce cell death in cancerous and virally-infected cells through a variety of concurrent killing mechanisms, including innate, antibody-mediated, CAR-directed, and a combination of both antibody-mediated and CAR-directed.
haNK®
Antibody-mediated killing
These antibody-targeted haNK cells directly bind to IgG1-type antibodies, such as avelumab, trastuzumab, cetuximab, and rituximab, to enhance the cancer-killing efficacy of these antibodies. They boost the available number of natural killer cells that can kill cancer cells through Antibody-Dependent Cellular Cytotoxicity (ADCC).
Antibody products are abundantly utilized to treat cancer and are estimated to generate over $100 billion in reported annual sales. A growing number of studies suggest that clinically meaningful responses to these antibody therapies correlate directly with the overall health of a patient's natural killer cell population, and whether they express the high-affinity variant of the CD16 receptor. Current literature estimates that only 10 to 15 percent of the eligible patient population carry high-affinity CD16 receptors.1. This suggests that our haNK product candidate may have significant market potential as a combination therapy for patients who do not carry high-affinity CD16 receptors (and, as a result, exhibit a poorer response to antibody therapies).
1. Jochems, C., Hodge, J. W., Fantini, M., Fujii, R., Morillon, Y. M., 2nd, Greiner, J. W., . . . Schlom, J. (2016). An NK cell line (haNK) expressing high levels of granzyme and engineered to express the high affinity CD16 allele. Oncotarget, 7(52), 86359-86373. doi:10.18632/oncotarget.13411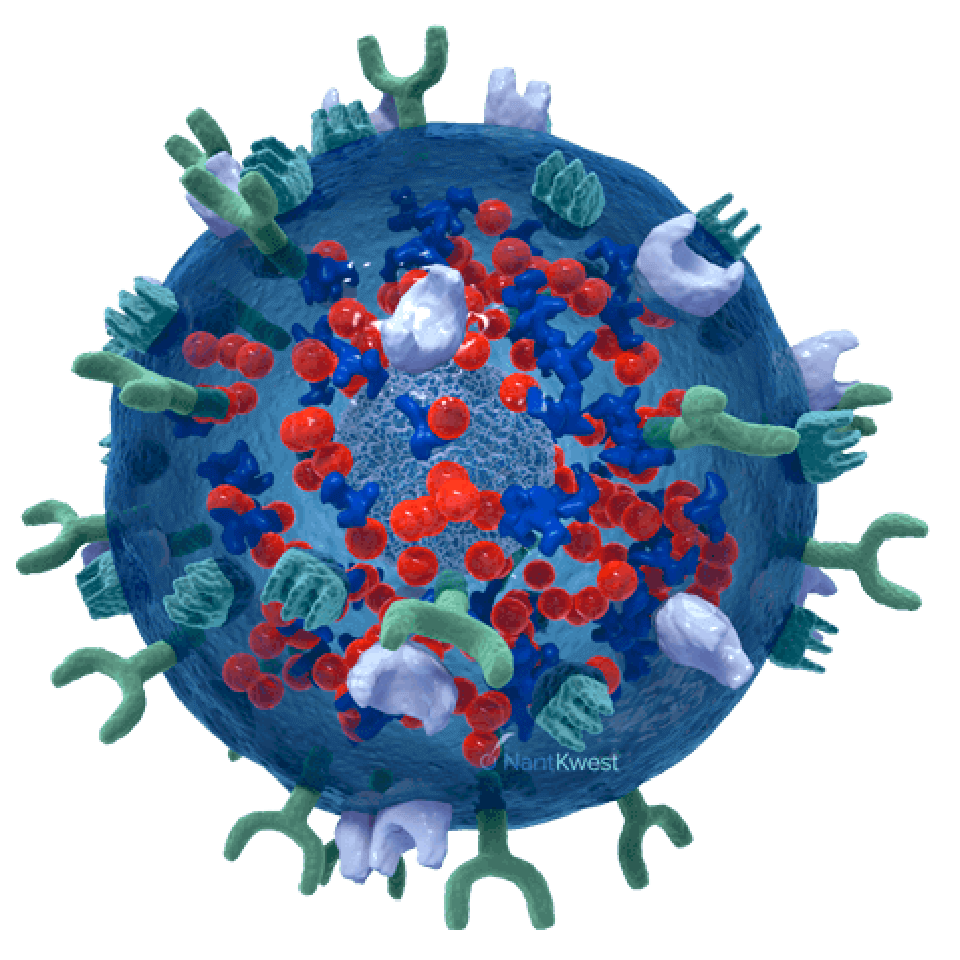 t-haNK
CAR-Directed and Antibody-Mediated Killing
Our newest and most promising platform for the development of therapeutic product candidates is an innovative, bioengineered combination of our haNK platform, together with a chimeric antigen receptor (CAR). The resulting product line candidates under this platform have the potential to kill in three ways: innate, antibody-mediated, and CAR-directed killing. These candidates also include one or more additional expression elements, such as functional cytokines, chemokines, and trafficking factors, making them some of the most versatile in our portfolio. These products are intended to be combined with commercially-available therapeutic antibodies to effectively target either two different epitopes of the same cancer-specific protein, or two different cancer-specific proteins.
PD-L1 t-haNK
Our novel, GMP-grade, cryopreserved, "off-the-shelf," bi-specific, PD-L1 t-haNK investigational natural killer cell therapy candidate targets PD-L1 via a chimeric antigen receptor (CAR), and incorporates a high-binding affinity receptor (CD16) that binds to an administered antibody, potentially enhancing its cancer cell-killing effect.
PD-L1 t-haNK is not intended for use as a monotherapy; it will be the backbone of a combination regimen that includes a therapeutic monoclonal antibody, in addition to the IL-15 superagonist Anktiva (N-803), through our exclusive co-development agreement with ImmunityBio, Inc. We believe that the addition of this selective IL-15 cytokine therapy will complement the activity of our bispecific natural killer cell therapy through its stimulation of the patient's own resident population of natural killer and cytotoxic CD8 T-cells.
M-ceNK®
Autologous and allogenic memory-like cytokine-enhanced NK cells (M-ceNK)
Memory-like cytokine-enhanced NK cells are a unique set of lymphocytes that differentiate after a brief pre-activation with interleukin-12 (IL-12), IL-15, and IL-18 and exhibit enhanced responses to cytokine re-stimulation that include enhanced IFN-γ production and cytotoxicity against leukemic cell lines. These cells have been isolated and characterized by their unique cell-surface marker profile and their highly desirable feature of immune-memory, marked by their pronounced anti-cancer activity for weeks to months in duration, which has made these cells a research focus for more than a decade. We have developed a unique ability to generate a portfolio of distinct M-ceNK cell products through the application of our proprietary GMP-in-a-Box bioreactors and cytokines and our proprietary methods and overall expertise in scale manufacturing of NK cell-based products.
Lisa Ray
In her 30s, and at the peak of her career, actress and model Lisa Ray was diagnosed with multiple myeloma, an 'incurable' and often fatal form of cancer. Following a stem cell transplant, she opted for a clinical trial to receive Natural Killer cells. She has been in durable complete remission ever since.
Nunzio Varrichio
As a weight-lifter and active farmer, the diagnosis of Merkel Cell Carcinoma, a rare and difficult-to-treat form of skin cancer, came as an extreme blow to Nunzio Varrichio. He fought it with traditional therapies for over a decade until he finally found the opportunity to receive Natural Killer cells through a clinical trial. Following a single treatment, he remained in complete remission for over 15 years with no further medication.
How Can ImmunityBio Help You?
Solutions for Patients
Many therapies for treating cancer and infectious disease severely weaken the immune system—the human body's most important natural disease-fighting weapon. But ImmunityBio creates targeted, personalized immunotherapies that are designed to strengthen the immune system and enable it to outsmart your disease.


Opportunities for Trial Investigators
Immunotherapies and cell therapies are key to future cancer treatments. Our investigational IL-15 superagonist, N-803, and NK-92®-engineered cells have demonstrated wide therapeutic potential across multiple tumor types, and, in clinical studies, have proven to be well-tolerated, making them ideal for clinical trial investigations.


Solutions for Research Scientists
Our NK-92® cell line provides a versatile bioanalytical testing solution that helps researchers develop functional killing assays that are more consistent and reliable than donor blood and reporter gene assays.


ImmunityBio is continuously pursuing new immunotherapies designed to attack disease by enhancing the patient's immune system, not weakening it.